Best Bonded Rubber Installation Services in Cape Coral, FL

What is bonded rubber? This is an alternative to the early poured rubber surfaces. This surfacing uses bigger pieces but it gives the highly accessible one-piece surface.  Bonded rubber is usually poured on the surface in a monolayer system, giving it an excellent natural, seamless and appealing appearance to your outdoor facility.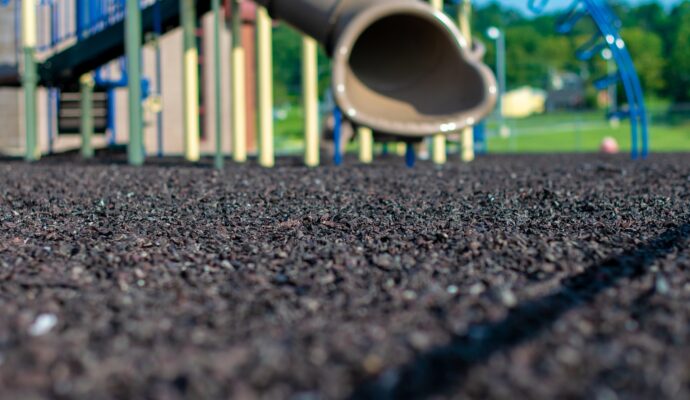 Bonded rubber is the best unitary surface. Cape Coral Safety Surfacing installs custom-made bonded rubber that is available in a range of colors which mainly consist of solid colors and color blends. This rubber surfacing has a number of uses, in landscaping and trails application.
Bonded rubber is mostly made from natural products; it allows the surface to meet both height and critical fall properties. It is also known for its good absorption impact. No matter how it is stretched, it instantly retains its natural shape. When it comes to the installation of bonded rubber, minimal labor is required to prepare the surface. This way, both the installation and labor costs are low making it among the cheapest options for surfacing.  Why choose bonded rubber? These are the reasons why;
Bonded Rubber is Safe
This rubber surfacing is safe just like its other unitary surfaces. Rubber's natural properties provide a great absorption impact and mainly allow the surface to meet the critical fall height (ASTM). Initially, there used to be many cases of severe brain injuries but with bonded rubber, this is not the case. The depth of the safety surface installed and soft-cushion property makes bonded rubber safe in case one falls; hence the rate of the head or other injuries is minimal.
It is slip-resistant because of its uniform resistance impact on the surface. Bonded rubber can withstand cold and hot temperatures year in year out and does not change its effectiveness. Its rubber nature helps the surface to be a great shock absorber. The safety of the bonded rubber is assured because it does not support the growth of microorganisms like bacteria. The surface is clear meaning fallen or harmful objects cannot be buried or hidden in the ground.
Due to its unitary surface, the rubber surfacing does not get scattered on the paths or walkways. It also does not get blown away or get into the eyes. Get in touch with experts so that they have the right materials and require fall height to be attained. Skin allergies are rare too because the rubber surface mainly does not affect the skin.
Installation Cost
To prepare the surface needed for the installation of bonded rubber, the process is extensive, making the rubber surface costly to install. The process has to be done by professionals to avoid any inconveniences.  A lot of keenness is needed while preparing the subsurface, hand-trowel, and binding agents to the correct height. Just like any other unitary surface, the surface will need some time to dry up after installation before being in use.
Accessibility and ADA Compliance
Cape Coral Safety Surfacing bonded rubber has been in service for quite some time, Why? This is because its rubber surfacing has met the safety standard that complies with those that are physically challenged. Wheelchairs, walkers are able to softly move around the surface because of their smooth level. Bonded rubber surfacing does not limit on whom to use it. All can use it with lots of comforts and equal fun.
Maintenance and Care
This may be the simplest unitary surface to take care of. Loose-fill materials are supposed to be maintained: raked, trimmed but with bonded rubber that is not necessary. The rubber surface has a long life span and is incredibly durable.
The surface is able to hide little imperfections and minor damages in case of any and does that perfectly. To keep the surface in top condition, ensure that you regularly brush it to remove contaminants and rubbish such as litter, leaves, and snacks remain. With a little maintenance and care, the bonded rubber surfacing will serve you for years and still look freshly installed.
Bonded rubber is highly resistant to wear and tear due to the natural property of its components. It is also slip-resistant, the surface holds enough grip making tripping and falling easily controlled. This rubber surface can also stand up to environmental changes. Summer or winter, bonded rubber does not get affected hence is a good surfacing option for your playground's pathways. During the rains, the rubber surfacing is able to drain water fast and adequately reduce flooding. Cape Coral Safety Surfacing bonded rubber is made in a way that it has holes enough to drain water easily and also to dry fast.
Design and Aesthetics
When it comes to rating, bonded rubber has a high rating. It has a lot of designs and colors which are majorly used for the intended surfaces. Cape Coral Safety Surfacing offers flexible designs that can be installed in pathways and also playgrounds.  You may run out of choice. The designs also matter considering the age group of the people who have been targeted.
If compared to poured-in-place rubber, bonded rubber has a more natural appearance because it is made of mulch-like pieces that can be easily dyed to your desired color. From dark to light colors, the colors can be mixed asymmetrically on the surface making it eye-catching. It is a great option especially for those who want excellent surfacing without maintenance. 
Cleanliness
When it comes to neatness, we do not get to compromise. Looks are deceiving; the bonded rubber surface is clean but looks like a tedious job to wash or sweep yet it is the cleanest surface. Litter may be swept or blown away though the rubber surface has to be checked occasionally. Its non-slip surface has made it the ideal option for safe and clean pathways.
Lifetime Cost
This surfacing does not require a high initial installation cost if compared to the other unitary surfaces and loose-fill materials. Bonded rubber has a low maintenance requirement and long lifespan. Many go for this option because it is less expensive. When installed by experts, you are assured of a valid warranty. With the right installation and materials, it can serve you for years with low maintenance.
Below is our list of additional services: