Cape Coral's Best Poured-In-Place Rubber Installation Services

The above-named rubber has been in use as a safety surface for grounds in school playgrounds and parks. For Cape Coral Safety Surfacing, poured-in-place rubber has an extended number of applications; on pathways around pools and other surfaces to reduce slipping and falling. Poured-In-Place rubber is a two-layered system mainly consisting of 100% recycled rubber as follows: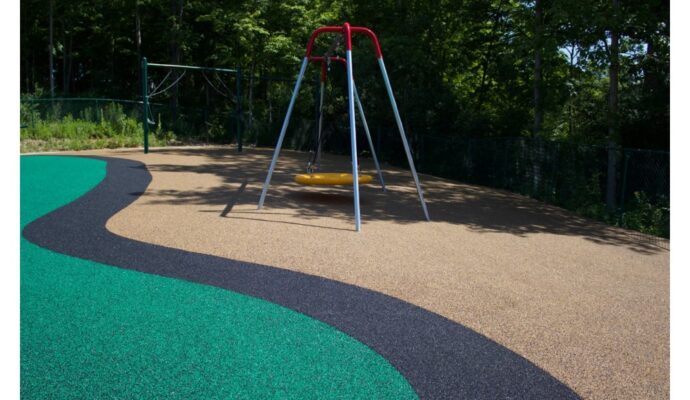 The layer at the bottom usually referred to as buffing is made up of cut-up rubber and is the cushioning part. This layer is very thick and so depends on the fall height in the ground. The material also depends on the manufacturer. In areas with playing equipment that are more than 3 feet high, the manufacturer majorly recommends SBR (Buffing) for a thick surface.
The layer at the top now is called the wear layer and comprises synthetic rubber by the name EPDM (Ethylene Propylene Diene Monomer) rubber or aliphatic urethane binder, or aromatic and TPV granule. There are numerous benefits to choosing this option for your surfacing reasons why it has become popular. Review the below content to find the benefits of opting for this interesting option.
Great all Year Long
---
Poured-in-place rubber is beautiful and durable. Quality products and professional installation are key when it comes to this great rubber surface. It is proper that it is done by experts so as to acquire the right depth and slope and to ensure that the right materials are used.
Cape Coral Safety Surfacing is able to do custom layouts and designs with their poured-in-place rubber. No matter the weather conditions, the surfacing can survive extremely horribly hot and cold climates making it a great option for your surfacing.
 The double-layered surface is an awesome technique that can withstand friction from the high-foot traffic and the pressure exerted on it. Not only does poured-in-place rubber surface reduce slipping and falling but it is also resistant to wear and tear. When it comes to your surfaces, there's more to it than just their appearance.
Once installed, it does not need to be reloaded like gravel or sand. Poured-in-place rubber is durable all year round and many more as long as it was installed in the right way, by professionals. It is also a reliable and cost-effective option for your surfacing project.
Excellent Safety Performance
Safety is and will always be a priority, especially when searching for a suitable surfacing. Poured-in-place rubber is made from natural rubber, contains latex which is nonirritant to the skin hence no allergies. It is a reliable choice due to its perspective on safety.
The rubber surface is seamless; it does not create tripping hazards, unlike loose-fill materials.  Poured-in rubber offers great cushioning for your surface therefore, in case of a fall, there is a high possibility that you will be safe from serious injuries.  Poured-in-place rubber is a great option as it is a good heat conductor, hence acts as a shock absorber.
During the rains, you are assured that there will be no mud as your children play because poured-in-place rubber is able to drain water fast. It also stays in one place and in case the wind blows, dirt does not get into your eyes. Animal waste and any other substances or any other objects are not buried in the rubber surface; you can easily see what has fallen, not compared to surfaces like grass.
It is Flexible
Poured-In-place rubber can suit any design and will definitely not be held back from a design of your choice. Customizing the size and shape of the surface to meet your needs is easy. There is also a wide range of colors to choose from as well.
Due to its flexibility, the rubber surface can be used for a number of installations. Walking trails, exercise areas, entryways, and any other surface where a non-slip rubber surface will be beneficial. Initially, poured-in-place rubber was in playground surfaces, but because of its benefits, it is now used literally anywhere.
In playgrounds, the double-layered rubber surface is majorly in bright mixed colors to create entertainment and also attract kids. While in schools, they are designed in a way that they mostly match the uniforms or school theme.
Affordable and Maintenance Cost
When it comes to installing the rubber surface, budget is always a concern. Since it is made of recycled rubber, the cost of the materials, installing, and maintaining it will be lower making it a good option for your surfacing.
The installation process is quick, with minimal laborers making the labor cost low. There is no maintenance cost too and yet again not reducing your savings. The rubber surface is certainly pocket-friendly.
DA Compliant
Cape Coral Safety Surfacing meets the Americans with Disabilities Act (ADA) making its poured-in-place rubber wheelchair accessible. This excellent double-layer surface is able to cater for and benefit without discrimination to those with physical limitations. Those with wheelchairs find it easy to navigate around the rubber surface because it is accessible and leveled to sustain them.
Strength
Rubber generally is strong and can withstand almost anything thrown at it. Poured-in-place rubber, therefore, does not break or crack even when at high or low temperatures. It is also able to maintain its original shape, density, and color because of its rubber nature.
This rubber surfacing provides a better bond strength, higher elasticity, and better impact absorption over other surfacing components like sand. The surface is able to withstand a tremendous amount of wear and tear from foot traffic, all other elements, and most of all the sun. The rubber components also help the surface in remaining supple and flat.
There is more to a great playground than just its surface, but this piece of the puzzle is a big one. Be sure to consider poured-in-place rubber as a cost-effective and reliable solution for your surfacing project. Get the right quotation for any pricing prior to the installation to avoid any inconveniences. You can get the best installation and maintenance of poured-in-place rubber from us at rates that are quite pocket-friendly.
Below is our list of additional services: